A fun time with the family
CareNet Everyday Hero 5k & Fun Run
Save the date for May 12th, 2018! Our Everyday Hero 5k and Fun Run is an exciting way to actively demonstrate support for the Sanctity of Human Life and a desire to make a difference in the lives of men, women, and their babies.
When you put your feet to your convictions and Run/Walk for Life you are directly helping the ministry of CareNet advance its mission to impact and transform people with the love of Christ. The funds raised from this year's event will help continue life saving programs that impact families within our community.
Click for More Race Details
Sponsorship Packet
Simple & Easy / Ongoing Engagement
Change for Life Campaign
The Change for Life Campaign is a simple, yet effective way for your organization or church to raise awareness of CareNet's ministry and at the same time raise needed funds.
We then ask you to fill the bottle with change, bills, and checks. We will happily supply the bottles!
SIMPLE
Determine the time frame you would like to distribute the baby bottles. A 4 to 6 week time period is best. Some suggestions are:
January through March. Distribute the bottles on Sanctity of Human Life Sunday and have them returned the first Sunday in March.
Mothers Day to Fathers Day. Distribute the bottles on Mothers Day and have them returned 5 weeks later on Fathers Day.
Respect Life month of October. This is a great time for schools and churches to remember the value of all human life.
EFFECTIVE
Bulletin announcements educate your congregation on needs within our community and women in unplanned pregnancies.
Individuals can take these bottles home and conveniently be a part of this LIFE saving ministry.
Parents can use these bottles as a teaching tool, educating their families on the God-given value of LIFE!
Click Here to Register
A night out for a great cause!
Women of Life
Women Of Life was a beautiful night of encouragement.
We had worship together, led by Compassion Church, and heard the incredible testimony of Evie West – all in the beautiful atmosphere of Firefly Lane.  Thank you to all who came!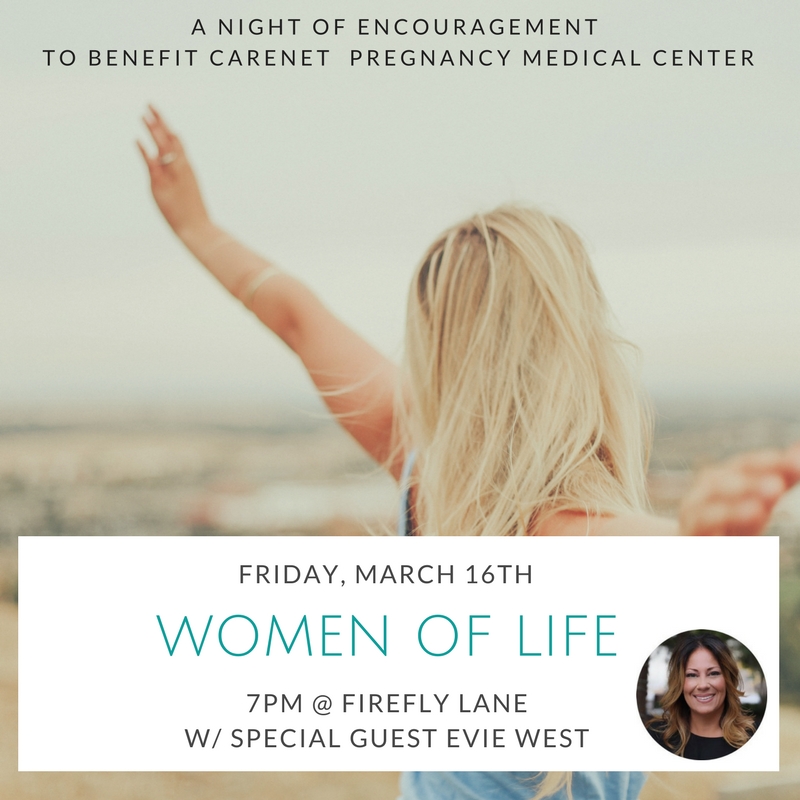 Celebration of Life!
Annual Banquet
Thanks to the supporters of CareNet and Crosspoint Dickson for a great event! We're looking forward to 2018.
Join us November 1st, 2018 as we celebrate LIFE in our community through real life stories, encouraging music, dinner and fellowship!